Our Printable Place Cards
Everything you need to know about making printable place cards with Place Card Me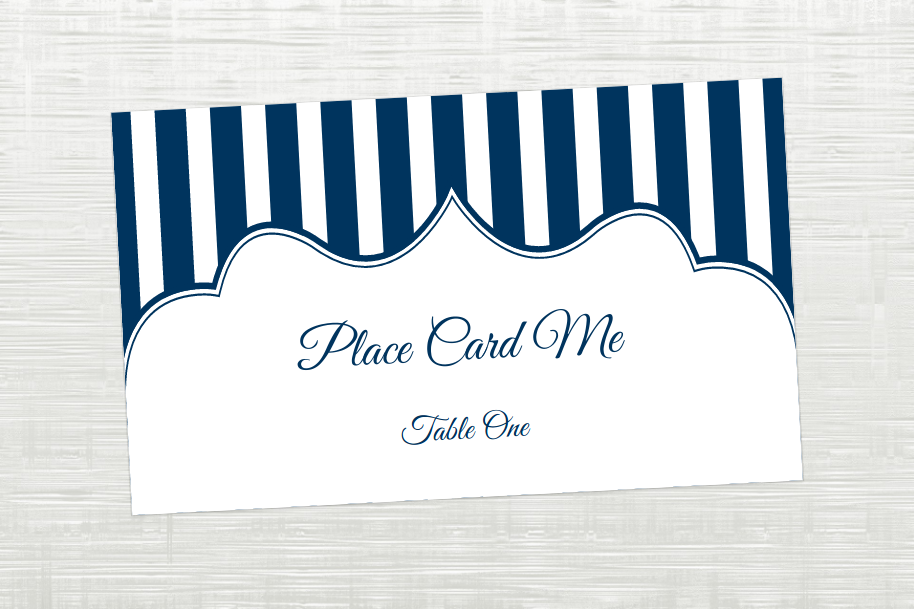 How It Works
We hope our place card maker is so easy to use that you don't need any instruction, but just in case, here's the run down:
First you pick a template.
Next, you upload your guest list and assigned tables to the site. You can do this using Excel or just paste the information in. The names and tables will get formatted on the cards automatically!
After that you customize the cards, including choosing your font, colors, card layout, and more.
When you're happy with how everything looks you can save your progress and you'll get a downloadable PDF file with the cards completely laid out for you.
This file is ready to print! That's it!
If you opt for a paid template you'll have a chance to preview the PDF before purchasing.
Place Card Sizes
Our place cards are approximately 3.5" wide by 2" high after cutting and (optionally) folding.
Sizes may vary slightly depending on the paper size and your printer's margins.
Paper Size
Our templates are designed to be printed on a number of different paper types.
If using traditional card stock you can use either 8.5" x 11" standard letter paper (in the US and Canada) or A4 paper internationally.
We also support Avery 5302 Small Tent Cards and Avery 5371 Business Cards. More information about using Avery card templates can be found on this page: Avery Place Card Templates.
Paper Types
Any card stock will work well—use thicker ones for more robust cards. Choose any color or material that matches your theme!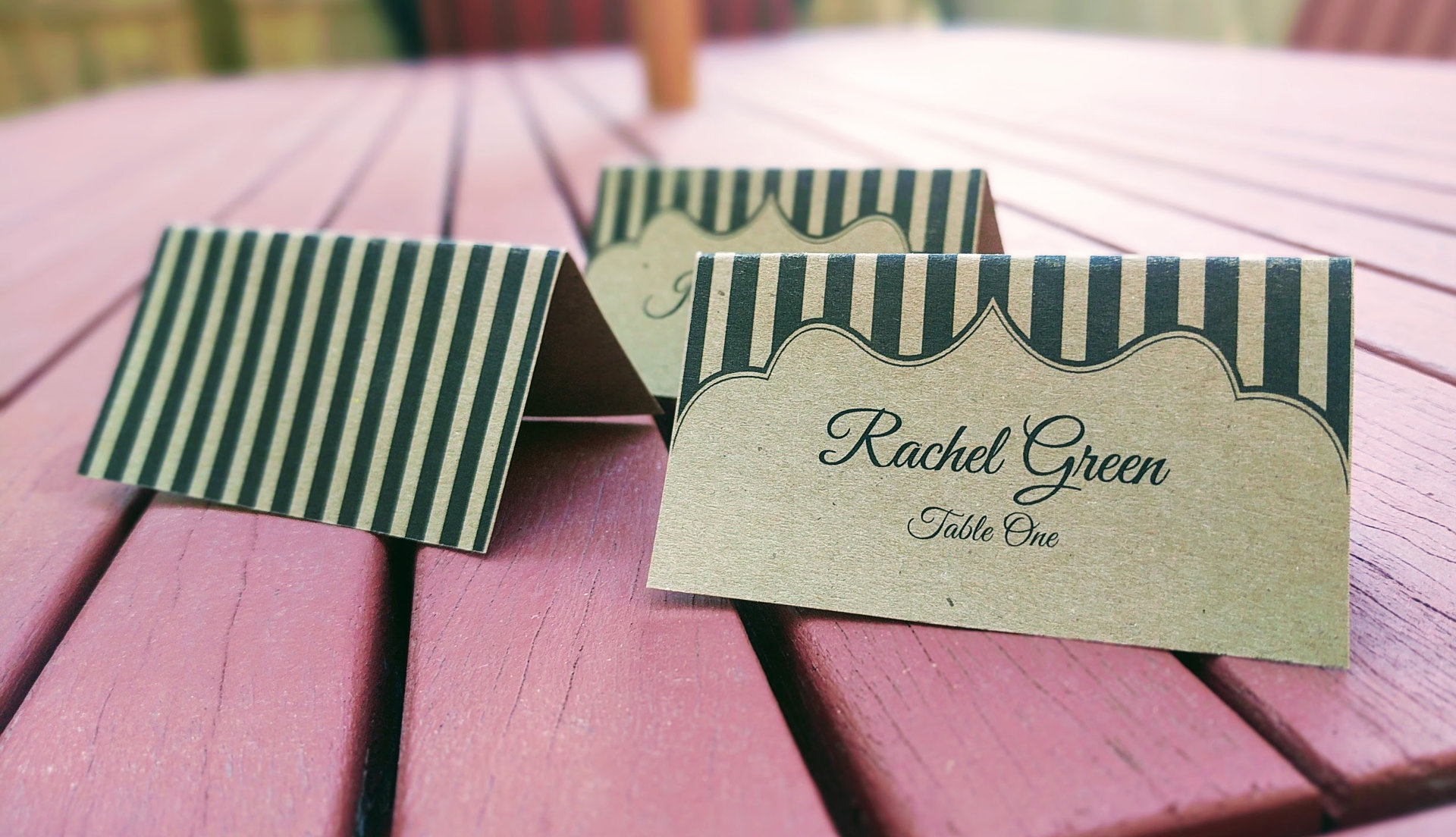 Kraft card stock works great for a rustic-themed wedding.
If you're looking to buy paper online, Amazon has a wide-selection of quality card stock paper, including this great and versatile option.
For compatible pre-cut cards—which can be printed on directly and make the cutting and folding process quite a bit easier—you can use Avery 5302 Small Tent Cards, Avery 5371 Business Cards, and any compatibly-sized products.
Printing
The cards can be printed right at home on most printers! Just make sure to do a test run before printing the whole batch.
Alternatively, you can take our files to Staples®, Office Max®, Office Depot® or any other local print shop and they should be able to take care of everything for you in minutes.
Cutting
Our cards have grey cut lines on them indicating where they should be cut. As long as you cut along the lines they should not show up in the finished product!
If you're using card stock and going to be cutting more than 10 or so sheets it can be worth investing in a paper cutter. While the cards can be cut by hand—doing it right can be a laborious process!
We've got lots more information in our printing guide, and don't hesitate to reach out if you have any questions at all!
FAQ and Support
Answers to some common questions and support issues.
My PDF file is blank! Please help!
This problem is usually easily resolved by using the "Rebuild PDF" link on the download page.

This is what you should click on.
Click the link and wait for the page to reload, then try the download button again. Note that it may be necessary to try this a few times.
If after rebuilding the PDF several times the cards are still blank, you may have to try alternate options.
A common cause of blank cards is that the generated file is too large. Reducing the size/resolution of an uploaded image will likely help, as will reducing the number of guests you are creating cards for at a time.
Note that if you have purchased a template you are free to edit the guest list and generate multiple different PDFs without paying multiple times.
I bought a pre-cut place card template. Can the cards be formatted to fit it?
Maybe!
As mentioned above, we support Avery 5302, Avery 5371, and compatibly-sized templates.
If you'd like to use another format, don't hesitate to let us know! (Please indicate the format/product you want in the "other" answer.)
I want to change the color of the font but I can't figure out how.
You can do this by clicking the little colored box between the font name and size:

This is where you can change font colors.
If you don't see a colored box there but instead see a random code of letters and numbers you have two options:
You can use an online color picker to find the color code you want and enter it into that box.
You can switch to a browser that supports built-in color pickers, which include Chrome and Firefox.
Can I change the color of the template?
Not natively on the site, but maybe if you're willing to get your hands dirty.
If you'd like to use one of our templates in a different color, you can contact us and we'll send over the original image file which you can then edit and upload as a new template.
I uploaded a template but need to move the text. Is that possible?
Not natively on the site. But feel free to get in touch and we'll see if we can help. Please include the file you uploaded and a link to your cards in this email.
Is this site secure? How do you process my credit card?
Yes, this site is completely secured using the latest in web standards and encryption technology.
All payments are handled by a third-party service called Stripe, which powers payments for some of the largest online services in the world.
We never see or store your card information.
My question is not answered here. How do I get in touch?
You can send us a mail at hello@placecard.me. Other contact options are listed on our about page.